Have you ever found your car standing on tops? If so, you will certainly admit that it is not only an expensive but also a very unpleasant situation. In addition to the loss of valuable wheel discs and seasonal tyres worth hundreds of euros, the owner of the vehicle in such a situation must also deal with own mobility and also damage to the vehicle itself.
A car standing on the brake discs, overhanging thresholds or other extensive damage. This is also how a very unpleasant morning can look like. Even today, bicycles are very easy and valuable prey for thieves who, unlike their colleagues who focus on whole cars, do not need to know anything at all. They only need a jack, a few keys and a suitable opportunity for a successful robbery. However, you can effectively prevent the theft of wheels or any other valuable component from your car with Pandora security, which protects not only the car itself, but also all its parts, wherever they are located.
Dangerous unfinished theft
Several cases that have taken place in our country over the last year show that the theft of wheels may not even be successful, and even so, it can cost you considerable resources or even your health. It is enough for the thief to be interrupted during night behind your beautiful shiny wheels and the unfinished theft will turn into an accident waiting around the corner. Honestly who checks the tightening of the wheel nuts in the morning before each ride? The answer is no one – and obviously a wheel holding only on a single nut is not good at all. Then what follows up can be very dangerous – a scene like from an action movie, when the wheel drives away from your car.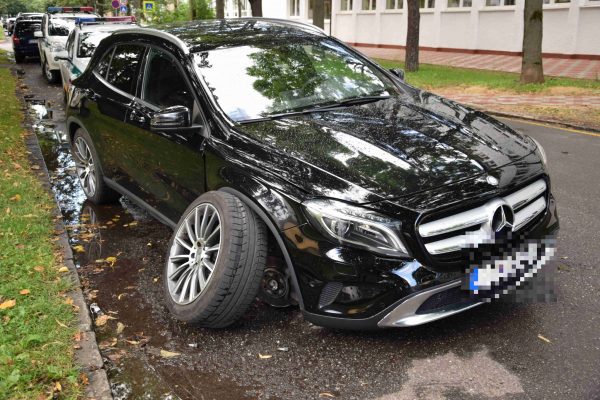 Loose wheels after a failed theft
Not just tuning jewelry
The days when wheel thefts mainly concerned valuable discs from well-known brands from mass production are long gone. Currently, the greatest interest is in original discs not only of premium vehicles. These wheels are inconspicuous, they are easier to sell and at the same time there is a lot of interest in them. Most manufacturers do not protect such wheels from theft, and therefore they are really easy prey.
The garage is not a guarantee either
If you say that this problem does not affect you, as you park your car in a dry and safe garage or parking house, you will probably be surprised to find that even this type of protection is not perfect. Yes, a well-locked garage with security locks is certainly better than nothing, but if a thief breaks the security of the garage, the closed space gives it an unexpected advantage. There will be no suspicion in an enclosed space, no one sees him handling a key in the middle of a dark street, so he can have more time for everything.
Security screws will help
A well-known and widely used method of wheel protection is the safety bolts with a unique shape, which allows them to be loosened only with the original key. This security of the wheel is an obstacle especially for inexperienced and unprepared offenders. Because the bolt pattern is visible, obtaining the appropriate key is relatively easy, and therefore, if the perpetrator wants your wheels, not all the bolts in the world will stop him.
Protection you may not even know about
This is exactly the protection with maximum efficiency offered by Pandora systems equipped with tilt, shock or motion sensors that guard your vehicle 24/7. You are immediately informed of any attempt to lift, handle or roughly handle your vehicle or any part of it, and you can take all necessary steps to secure it. Compared to any other security method, Pandora alerts you to suspicious activity right from the start, so you can prevent any damage before it's too late. In addition to the silent alarm on your mobile phone, of course, a loud alarm will sound, which is guaranteed to catch the attention of the vehicle and thieves in action, which is a reliable way to prevent any theft.
All Pandora car systems are equipped with a 3D sensor. So either you choose the most affordable MINI model or the top class Elite model, your wheels, catalytic converter or any other valuable parts will be safe.