In a constant innovation process we are happy to present you a new product – the Pandora Band bracelet. A trendy accessory that brings comfort to functioning of the state-of-the-art security systems.
Each Pandora system includes an advanced contactless immobilizer – a transponder which is used for communication between you and your car. Even if it fits comfortably on a keyfob or in a wallet, it might happen that we leave it somewhere and forget about it in a rush.
With the Pandora Band, we therefore strive to meet the maximum comfort. This intelligent wristband is fully compatible with all Pandora systems with the Bluetooth 5.0 technology (e.g. SMART PRO a ELITE) and will serve as a practical and handy replacement for the authorization tag.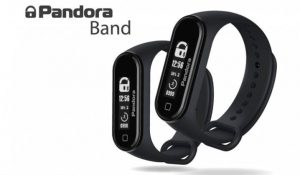 It relieves you from constant looking for transponder or putting out your phone. You can also use the wristband to monitor the security status of your vehicle, turn the guard function on and off or receive important notifications. Of course, there is a clear OLED display with excellent readability in any lighting conditions.
Pandora Band also includes a built-in accelerometer and pedometer, so your daily physical activity will be constantly monitored and recorded for your personal use.
Charging the bracelet will take you no longer than 20 minutes and during standard operation the device will serve without the need for further charging for more than 2 weeks. The icing on the cake is compatibility with the straps of the most used bracelet in the world – Xiaomi Mi-Band 2/3, thanks to which you will be able to perfectly match the bracelet with, for example, the color of your vehicle.
Do not hesitate to contact us and we will be happy to provide you with other reasons why the Pandora Band is the best accessory in the field of car security.