Once again we took part of the largest caravan show in Düsseldorf, Germany between 27 August and 5 September 2021.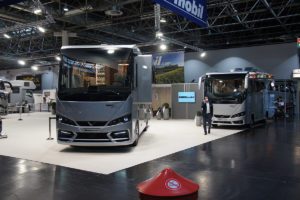 As in the years before we haven't missed the largest, most beautiful and best exhibition dedicated to caravanning and everything related to it. Restrictions at airports, resorts and hotels around the world have massively supported the previously wildly growing motorhome segment. The huge interest of the public was thus reflected in the attendance of the exhibition, which, despite the restrictions, reached 185,000 visitors.
Our Pandora stand, which attracted the attention of passers-by since the beginning of the ten-day exhibition, was of course entirely dedicated to the Pandora Camper Pro and Camper Mini system. Our unique solutions, developed from the outset for the perfect security of caravans and caravans, have received a lot of attention with their advanced features, and our colleagues have been happy to anwser all questions and demands.
The Pandora Camper Pro and Camper Mini systems are not just "ordinary" alarms that protect an empty vehicle. As typical for the Pandora products, the Camper alarm also changes the usual procedures with the help of innovative functions such as the crew protection mode. With it, the Pandora Camper can actively monitor the condition of all openings in the vehicle, for example at night, even when the windows or doors are ajar. You will never have to sweat in the caravan again because of the threat to your safety. Other great features include the ability to start remotely, control heating or hot water, or clearly display the current status of individual systems.
At our stand, visitors could view and try out all the features of the Pandora Camper Online application with a live 3D visualization of the caravan. The application that is part of every installation is the result of intensive development by engineers in Pandora and offers features you won't find anywhere else, unrivaled reliability and a simple interface. At the same time, all this is maximally adapted to use in a motorhome, taking into account all scenarios of the caravanist's everyday life.